This where I am supposed to tell you about the philosophical basis of my quiltmaking, dazzle you with fancy words about creativity, etc. Well, here goes.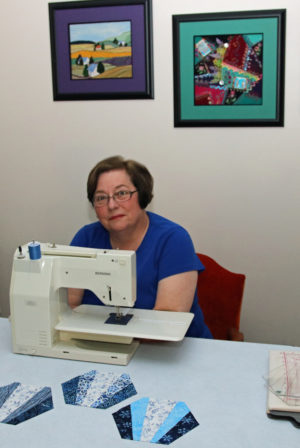 I love fabric. I love sewing. I live in Minnesota, therefore I am preoccupied with keeping warm. Given these facts, quiltmaking is practically a foregone conclusion. Oh, one more thing: there are only 24 hours in the day. Adding that last one is so you know that I am aware of how much time quiltmaking can consume, so I try to save time without sacrificing good construction when I design or make a quilt.
I've taught at the International Quilt Festival in Chicago, at various American Quilters Society shows around the U.S. and at the first International Crazy Quilting Festival in LaBourboule, France. I was one of the original teachers at Quilt University, the first organized online quilting university. While I enjoy teaching at quilting conferences, I enjoy teaching at guilds more because I can usually bring more samples and stuff!
I was lucky enough to appear on Simply Quilts with Alex Anderson where I demonstrated making quilts using hand dyed fulled wool made from recycled woolen clothing.
I've published designs, articles and poems in American Quilter, Quilters Newsletter Magazine, Sew News, CQ Magazine Online plus several other magazines and newspapers. I am also co-author of a book on Civil War veterans and working on a second book on women veterans from the Civil War to the Korean War. Another current project is painting barn quilts to establish a Barn Quilt trail across Dakota County, MN.
I sincerely believe every person is creative, you just have to find what medium appeals to you. I love multi-fabric quilts and believe it's never too late to start to create.
Note: What you don't see in the photo of my studio shown above is my fabric stash. I store my fabric collection in 50-lb. paper boxes. At last count I had 67 boxes stacked on three sturdy floor-to-ceiling shelf units. I live in daily danger of a fabric avalanche.
So let's not have any "I've got too much fabric already" moaning. There's always someone out there who has more. Go out and buy some gorgeous fabric!