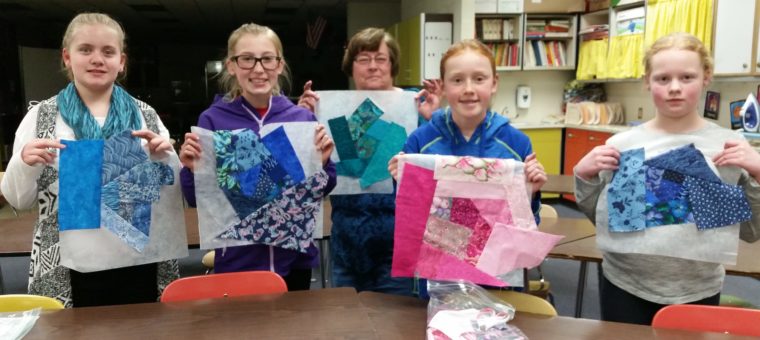 In early 2017 I participated in a Legacy Grant program with the Evening Star Quilters of Red Wing. What is a Legacy Grant?
In 2008 (yes, in the middle of the economic downturn), Minnesota voters took a bold and historic action by imposing a three-eighths of one percent tax on themselves for 25 years, until 2034, in the name of cleaner water, healthier habitat, better parks and trails and sustaining our arts and cultural heritage. The funds raised by this tax have funded numerous grants and programs, including ones for the arts.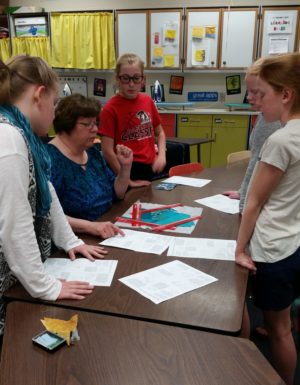 One of the grants awarded was to help put on the play Quilters which requires the construction of dozens of quilt blocks and two quilts. The Evening Star Quilters of Red Wing volunteered to make the quilts. If you have never seen the play Quilters, and it appears anywhere near you, GO! You will be entertained and learn about the history of quilting and how it sustained our pioneer ancestors.
Legacy Grants usually have a public education component, which is how I ended up teaching a crazy piecing class to middle school girls who had never sewn before.
I was completely amazed at these girls! After about five minutes of instruction on how to machine sew a straight seam they just dove into their packets of scraps and started sewing crazy blocks! No hesitation, playing with the fabrics, moving them here and there, showing off especially pretty fabrics , having a good time.
When the class was done they had several ideas on how they were going to use their block and they had a page of instructions to take home, along with extra fabric. I spent quite a bit of time choosing the fabrics for their free scrap bags (hey… it's not like I can't spare a little fabric.) so they could see the beautiful cotton fabrics that are available for sewing. Hopefully at least one of these girls will want to learn how to sew and maybe, how to make quilts.