In 2016-17 I finally finished a project I started in 2004. At that time a museum opened in my hometown of Hastings, Minnesota. The LeDuc House Museum was built during the Civil War for General William G. LeDuc. In 1958 it was donated to the Minnesota Historical Society but a series of events delayed its renovation and opening to the public until 2005. So when it finally did open up to the public, it was a big deal.
Unfortunately, like most house museums, initially there wasn't enough money for all the extras, such as period appropriate quilts.   This was really sad because Mrs. LeDuc and her three daughters were well known for their needlework. Two of her daughters even started a custom embroidery business in their home, an unusual thing for that time. They employed a woman salesperson to travel around and take orders for their embroidered linens. To not have quilts on display in the LeDuc House was just unacceptable.
The local quilting group, the Spiral Piecers had created a lovely applique and piecework quilt which was auctioned off to raise funds for the LeDuc. I had designed a crazy pieced border for that quilt and it was such a positive experience I offered to organize groups of quilters to sew five more period appropriate quilts for the LeDuc.
I was under the mistaken impression that organizing a bunch of quilters would be quicker than if I just sewed five quilts myself. I refer you to the first line three paragraphs ago (started in 2004, finished in 2017).   After organizing four group-sewn quilts I can tell you I have learned a lot and have a much more realistic view now. I can also say that every one of the LeDuc group quilts has turned out spectacularly better than I even hoped for.
The first four of the LeDuc quilts are shown below.
The fifth quilt sewn for the LeDuc House I did by myself (shown below). It uses Churn Dash blocks set in a vertical Bars setting.   I made this quilt to represent the style of quilt Mrs. LeDuc would have made at the time of her marriage or perhaps for her hope chest. It is by far the simplest of the LeDuc quilts as it represents an earlier era of quilting.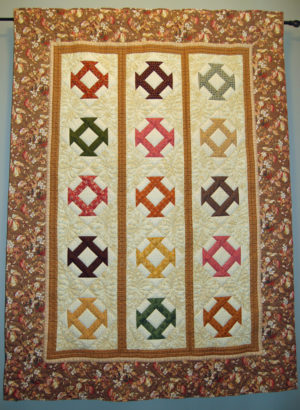 The last quilt made for the LeDuc is a redwork quilt (wallhanging actually) that uses embroidery designs drawn by two of the LeDuc daughters. The Hastings Pioneer Room is the City's historical records room and it has a suitcase of hand-drawn embroidery designs done by the LeDuc daughters for their business, Hastings Needlework.
As you can see by the variety of designs in the Redwork Quilt, their artistic inspiration spans several genres (and almost 30 years of the business). The Ladyslipper Needlearts Guild of Minnesota embroidered blocks of varying sizes for the Redwork quilt and I finally assembled it. That's when I discovered taking a photo of a Redwork quilt (or, I imagine, a white-on-white quilt) was a pain. A photo will be posted shortly.